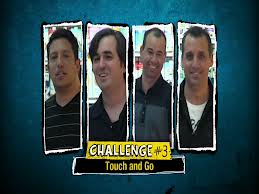 Touch and Go is a challenge that appeared on the episode of Impractical Jokers called Art Attack . In this challenge the jokers have to cross a finish line within 45 seconds, but they can't move unless they are touching somebody.
Joe won in 42 seconds. He won when a woman asked "Which one is good for steak?" Joe joined the conversation and answered while touching her and going past the finish line.
Sal won in 43 seconds, by pretending he hurt his back and dropped cans.
Q won by telling a little girl that there was "candy down that aisle", and held her hand skipping down the aisle in 24 seconds.
Murr didn't make it in 45 seconds, he never even left the starting line. He was trying to get a guy's attention and eventually go down the aisle touching him the whole time. The guy said he was busy and left, leaving Murr at the starting line. Time was up and Murr didn't make one step.
Ad blocker interference detected!
Wikia is a free-to-use site that makes money from advertising. We have a modified experience for viewers using ad blockers

Wikia is not accessible if you've made further modifications. Remove the custom ad blocker rule(s) and the page will load as expected.