"
Survey Says
" is the third challenge in the second episode of Season One, "
Butterfly Crime Scene
". It is done in the theme park
Six Flags Great Adventure
.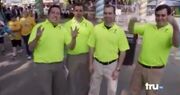 Rules
The guys have to read questions on a clipboard; some of these questions have nothing to do with Six Flags. If any of the guys do not read all their questions, they will receive a Loss. Murr is the only one to fail because he refused to ask "Can you tell if I wax my nuggets?"