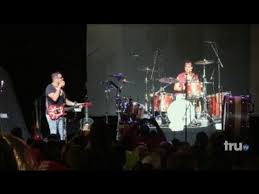 Senora Lonza was a fake band consisting of Joseph "Joe" Gatto  and Salvatore "Sal" Vulcano that was standing in for the Imagine Dragons as the opening act.
Señora Lonza's Performance
Edit
In front of 14,000 Imagine Dragons fans, the band is an opening act. However, the crowd thinks this is the band perform in and the Imagine Dragons aren't there. The losing Jokers don't know how to play instruments and are dressed funny. They call the band "Imagination Dragons" and Sal gives a bad message praising Pittsburgh. All their song titles are given by the other guys as well as the Imagine Dragons band members. Their performance is a failure and Sal makes a bad crowd dive at the end.
The band is named for the Jokers' high school Spanish teacher.
Ad blocker interference detected!
Wikia is a free-to-use site that makes money from advertising. We have a modified experience for viewers using ad blockers

Wikia is not accessible if you've made further modifications. Remove the custom ad blocker rule(s) and the page will load as expected.