Quit Fantastically is a Joker vs. Joker Challenge that appeared on the Season Three episodes Field of Screams (Sal vs. Murr) and Junk in the Trunk (Joe vs. Q). The jokers have to pose as employees at different locations and have to quit that job in front of a ton of people. The goal of the challenge is get the crowd to cheer and applaud, and if the crowd doesn't cheer, they lose.
Turns
Field of Screams: Sal vs. Murr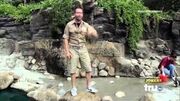 This is the second challenge in Field of Screams.
Sal's job: Sal was a cashier at a Lot-less Closeouts store and had to announce that he is quitting because his dad pressured him to get a job in discount retail, but he wants to follow his dreams, which included traveling the world with a 90's pop icon and blogging about fruit. He is starting to look dumb but eventually and unexpectedly, they clap for him and he receives a win.
Murr's job: Murr is a zookeeper at Turtle Back Zoo working at the penguin exhibit. He has to announce that he is quitting because of "all the penguin drama". He tries his best to get the crowd to applaud, but makes a colossal failure by berating the penguins and angrily telling them to "Save the drama for your penguin mama". He asks "Who's with me?" but some little kids say "No one!" He tried again, but more kids say "No one!" He then berates the people, ruining his chance of winning, giving him the big thumbs-down.
Junk in the Trunk: Joe vs. Q
This is the third and final challenge in Junk in the Trunk.
Joe's job: Joe works as a waiter at the Carnegie Delicatessen and Restaurant, and he has had it with his job. His reason for quitting his job is to manage a boy band that he put together called "YOLO Boys". It seems he may not be successful and the show goes to a break, building up the suspense. After the break, Joe succeeds in getting the crowd to applaud, earning him a win.
Q's job: Q works as a janitor at the mall. Q makes the announcement that he's quitting because mall management doesn't want him living in the dumpsters anymore. It seems nobody may buy it, but the crowd eventually applauds; Q earns a win, as well.