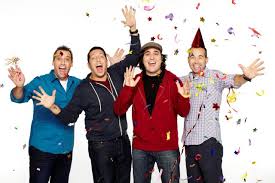 'Jokers After Party 'is a spinoff of Impractical Jokers that will last six episodes and will be about The Tenderloins talking about their favorite moments of Impractical Jokers . The air date is currently unknown, but it is known it will start this year 2014.
The revelation of this show was in Summer 2013.
The possible reason for this was to keep the episodes with punishments sorted away from the clip shows.
It is going to be similar to clip shows.
Ad blocker interference detected!
Wikia is a free-to-use site that makes money from advertising. We have a modified experience for viewers using ad blockers

Wikia is not accessible if you've made further modifications. Remove the custom ad blocker rule(s) and the page will load as expected.