When only two Jokers do a challenge, it is a Joker vs. Joker Challenge, also called a Joker Showdown. The first Joker vs Joker challenge was in the episode Unmotivational Speaker, with Joe against Murr. The Jokers that are not competing in this get a Free Pass. There was a special episode on this type of challenge. It was called Joker vs. Joker. It is possible for both Jokers to win or both Jokers to lose a Joker vs. Joker challenge.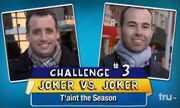 Ad blocker interference detected!
Wikia is a free-to-use site that makes money from advertising. We have a modified experience for viewers using ad blockers

Wikia is not accessible if you've made further modifications. Remove the custom ad blocker rule(s) and the page will load as expected.