Help A Kid Shut Up For Once Bake Sale was a fake charity that Murr failed to get a woman to sign up for on Art Attack in the final challenge. She won't sign up because she actually worked with children and said it didn't sound like a good charity. He told her that she should definitely know that kids never shut up. She pointed out that grown-ups never shut up either and didn't sign for the charity. Murr got a Loss and became the big loser of the episode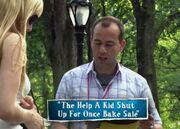 Ad blocker interference detected!
Wikia is a free-to-use site that makes money from advertising. We have a modified experience for viewers using ad blockers

Wikia is not accessible if you've made further modifications. Remove the custom ad blocker rule(s) and the page will load as expected.