The Fat Crow is a character who mostly appears during punishments. He appears in the episode Out of Fashion, Live Punishment and Training Day.
Appearances
In Out of Fashion, Fat Crow makes his debut when he makes an appearance on Brian "Q" Quinn's fashion show. In the Live Punishment episode, Fat Crow makes an appearance in the "try not to laugh" challenge. He then appears in Training Day when he confronts James "Murr" Murray while Murr is climbing down a building. Fat Crow gives Murr some paper towels to wash off Sloppy Joe's milk off.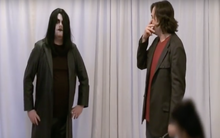 Ad blocker interference detected!
Wikia is a free-to-use site that makes money from advertising. We have a modified experience for viewers using ad blockers

Wikia is not accessible if you've made further modifications. Remove the custom ad blocker rule(s) and the page will load as expected.