Dairy Queen is a fast food restaurant chain where the jokers pulled pranks at on the episode of Impractical Jokers called Do Something To My Face.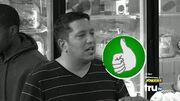 Challenge
See City Lickers.
Joe: Get a guy to have a meeting with him in the bathroom.
Murr: Get a guy to use his phone to call someone on Murr's behalf.
Sal: Get the man in front of him to order him a Pumpkin Pie Blizzard using only a made-up language.
Q: Get someone to call him "da bomb".