This is the third and final challenge in the episode Enter the Dragons. This challenge is at Turtle Back Zoo, the same zoo that Murr tried to quit in the Quit Fantastically challenge from Field of Screams. It is a Joker vs. Joker Challenge between Joe and Sal. They have to ask every question in their packet.
Sal, didn't ask a guy if he would like to donate his wife to the petting zoo. He said he "would never ask that in a million years".
Joe, asked every question, including a question that said "Out of all the animals in the immediate area, which would you like to dry-hump?" She said "none."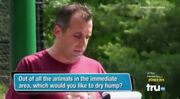 Ad blocker interference detected!
Wikia is a free-to-use site that makes money from advertising. We have a modified experience for viewers using ad blockers

Wikia is not accessible if you've made further modifications. Remove the custom ad blocker rule(s) and the page will load as expected.